by BPL Team Member Eliza.
As you might guess—given my role as an Adult Services Library Associate at BPL—I love to read. On my last day at the library before our temporary shutdown, I resisted the urge to check out a dozen books because I already had plenty at home: library books, books I own that I haven't yet read, books that deserve second or third reads. I was set.
But it turns out that my reading brain during COVID-19 is completely different than my non-pandemic reading brain. I have trouble sustaining attention. Some days, I want to escape into a total fantasy; others, I only want to read about real human experiences. My reading needs vary day by day, and I try to adjust as such. (A brief survey of the books strewn about my apartment shows that I'm a number of pages into eight different books.)
Rather than recommend one book today, then, I'm sharing the books that are getting me through quarantine, one reading mood at a time. Many are available as eBooks and audiobooks, which you can access through Libby; others, only available in print, will be waiting for you at BPL upon our reopen, just like us.
Special Topics in Calamity Physics by Marisha Pessl
A super-smart thriller set at an elite high school, Special Topics in Calamity Physics centers around Blue van Meer as she's pulled into the orbit of the school's "it" group and their enigmatic film teacher, Hannah Schneider. Blue—the preternaturally intelligent daughter of a widowed political-science professor who's perhaps too charismatic for his own good—begins to uncover a conspiracy that will change her life forever.
Similar reads: The Secret History by Donna Tartt, Prep by Curtis Sittenfeld, Oligarchy by Scarlett Thomas
Minor Feelings: An Asian American Reckoning by Cathy Park Hoang
Through history, criticism, and her own life as the Korean American daughter of immigrant parents, poet Cathy Park Hoang delivers an incredible essay collection about her experiences navigating the world—among family, friends, art, and politics—as an Asian American woman. Something truly magical happens when poets turn to prose (see How We Fight for Our Lives by Saeed Jones and On Earth We're Briefly Gorgeous by Ocean Vuong); I read Hoang's collection in a day.
Similar reads: Go Home! edited by Rowan Hisayo Buchanan, Days of Distraction by Alexandra Chang, All You Can Ever Know by Nicole Chung
The Wanderers by Meg Howrey
Aerospace leader Prime Space plans to put the first humans on Mars. But first, they need to test humans' capacity for long-term isolation and separation from their loved ones (hmmm, sound familiar?). They select a perfect crew: Helen Kane, Sergei Kuznetsov, and Yoshihiro Tanaka, all stars in their respective countries' space programs, and set them up in an incredibly realistic simulation in the Utah wilderness, which they won't leave for 17 months. Space-opera fans, beware: this novel is much more focused on human relationships—as Prime Space observes the three astronauts, they also observe the astronauts' family members, each of whom has their own unique struggles.
Similar reads/listens: The Dreamers by Karen Thompson Walker, Severance by Ling Ma, and The Habitat, a nonfiction podcast from Gimlet Media
The Complete Persepolis by Marjane Satrapi
Marjane Satrapi's Persepolis is one of those modern classics that's been on my TBR list for years, and during my most difficult reading moments these past few weeks, I've found that graphic memoirs and novels are the answer. As millions of readers could have already told me, Satrapi's coming-of-age story in war-torn Iran (and as a lonely teenage expat in Vienna) is a masterpiece, and even more layered than I could have anticipated. I just learned of her other graphic memoir Embroideries and can't wait to read it.
Similar reads: Our Women on the Ground edited by Zahra Hankir, In Pursuit of Disobedient Women by Dionne Searcey, Reading Lolita in Tehran by Azar Nafisi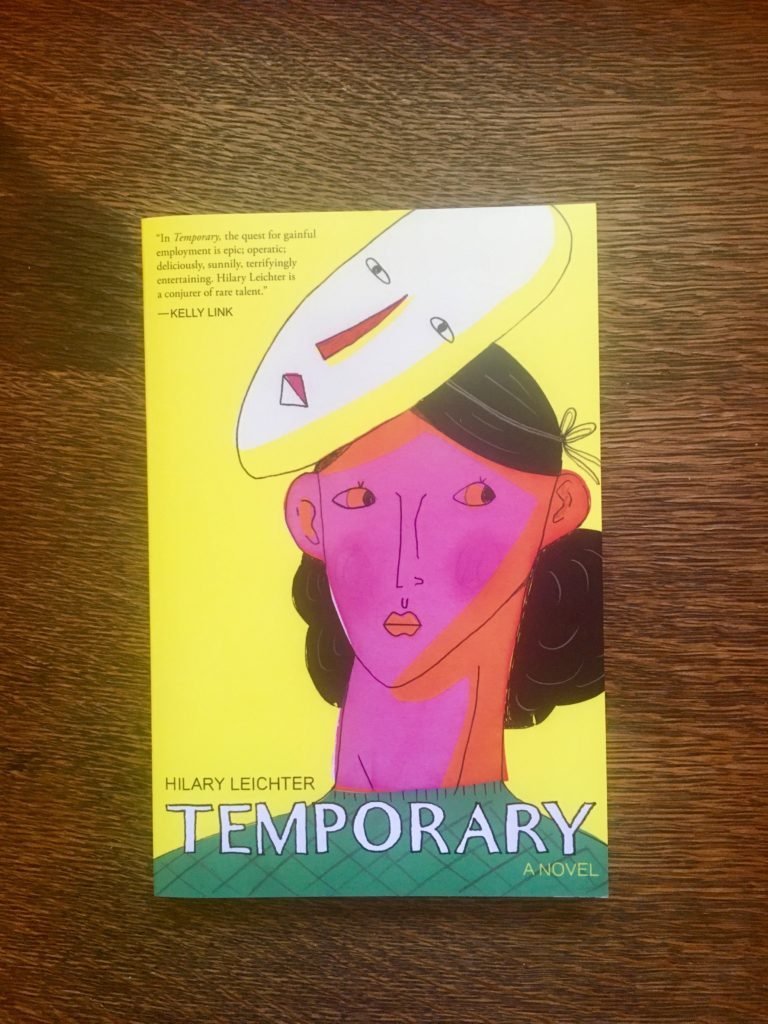 Temporary by Hilary Leichter
I thought I knew what I was getting into when I picked up Hilary Leichter's Temporary, but there's really no way to prepare yourself. In a parallel world to our own, a young woman who's made her career as a temp finds increasingly bizarre and absurd assignments—subbing in as a pirate, a barnacle, an assassin's assistant. It's delightfully absurd, compulsively readable, and, at its core, a moving commentary on capitalism and the struggle to build a life, as our heroine continues her search for the mythical "steadiness."
In lieu of similar reads (because there's really nothing like Temporary), other must-read books from indie presses: Godshot by Chelsea Bieker, Later by Paul Lisicky, They Can't Kill Us Until They Kill Us by Hanif Abdurraqib
---
Digital resources cheat sheet:
Special Topics in Calamity Physics (eBook and audiobook)
The Secret History (audiobook)
Prep (eBook)
All You Can Ever Know (eBook and audiobook)
On Earth We're Briefly Gorgeous (eBook and audiobook)
How We Fight for Our Lives (eBook and audiobook)
The Wanderers (eBook and audiobook)
The Dreamers eBook and audiobook)
Severance (eBook and audiobook)
Reading Lolita in Tehran (eBook)
Godshot (eBook)
They Can't Kill Us Until They Kill Us (eBook)