by Public Service Associate Owen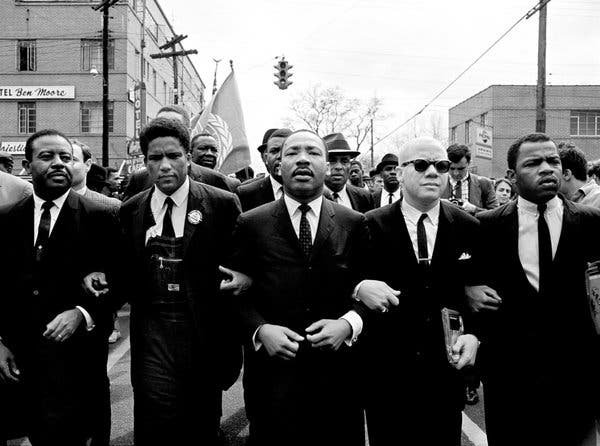 Dr. Martin Luther King Jr. was a towering figure of the Civil Rights movement in the 1960s. Today, we honor his legacy, his commitment to non-violence, and his incessant will to see America through to true societal equality. While it can be easy to treat Martin Luther King Jr. day as just another holiday or day off, I believe it is important to take action on a day like this. Ohio state Senator Hearcel Craig calls Martin Luther King Jr. Day "a day on, and not a day off, because of what Dr. King represented and his focus on service." So, if you are looking for ways to get involved and to honor Dr. King's legacy, I have compiled some materials, resources, and events to plan a day of service around.
Columbus' annual MLK Day March, cancelled last year due to the pandemic, will be making a return this year. Marching with fellow Columbus residents is a poignant way to honor the public demonstrations and marches that were a hallmark of Dr. King's civil rights efforts. The parade will begin at 4:30 p.m. and will begin and end at Columbus City Hall. It will be followed by an illumination of City Hall as well as public speakers. For more information regarding the parade route and free parking, you can visit this website. Since this parade was cancelled last year, it is an even greater opportunity to participate in it this year! If you are looking for an active way to participate in MLK Day, this parade, with its powerful display of solidarity, is an excellent way to get involved.
Capital University is hosting its 31st annual Martin Luther King Jr. Day of Learning, which features a keynote speech during the opening convocation from award-winning author, poet, and Columbus-native Hanif Abdurraqib. This event will be streamed online for free, but those who wish to attend in-person will have to register online.
Abdurraqib, who was featured in an event here at the BPL last April, also joined us to record a podcast, which is titled "Music & Basketball w/ Hanif Abdurraqib." This podcast, as well as all our others, can be found here and downloaded for free. An acclaimed author and poet, Abdurraqib has published several works about Black culture in America, including The Crown Ain't Worth Much, They Can't Kill Us Until They Kill Us, Go Ahead in the Rain: Notes to A Tribe Called Quest, and A Little Devil in America: Notes in Praise of Black Performance. All of these works would be great to pick up in the aftermath of Martin Luther King Jr. Day, as Abdurraqib is one of the brightest authors to come out of Columbus in recent years.
Furthermore, there will be an MLK Day Open House from 10:00 a.m. to 5:00 p.m. hosted by the Ohio History Center, located at 800 E 17th Ave, and in partnership with the King Arts Complex. Speakers and performers include Leap of Faith Dance Studio, Franklinton High School Steel Band, Roger Parish, Larry Robertson, NIA Performing Arts Ensemble, Transit Arts, and Antonio Lamar. Finally, there is the Dr. Martin Luther King Jr. Birthday Breakfast, from 9:00 a.m. to 11:00 a.m., which will be held online. The keynote speaker at the Breakfast is the President of Ohio State University, Dr. Kristina M. Johnson. These are both great opportunities to further participate in MLK Day events that the city is providing.
Whether you choose to stay in and attend events online or attend one of the many events honoring Dr. King throughout the city, I hope you at least take some time to reflect on Dr. King's legacy and how it can still shape our society today.