by Public Service Associate Hannah
Having clicked on this blog, I'm going to guess that you associate your vacation and time off with time to read. I might even wager that you are seeking a particular type of book — the beach read!
According to The Guardian, the first use of the term "beach reads" was in the summer of 1990. And it has been a fun descriptor for summer book lists since. Whether your travels actually lead to us brushing sand from the mylar covers or if quiet backyard relaxation is the destination, remember the library (and the book picking staff) is the beginning of many captivating escapes.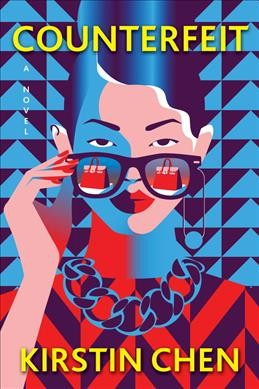 When straight-laced Ava Wong reconnects with her college roommate, she doesn't expect to get caught up in an international crime ring.
Try this feminist caper if you enjoy a sharply comic and incisive look at culture and class.
As the war intensifies and America becomes involved, the Girls of Flight City do their part to bring a victorious end to the conflict, pouring all their energy into preparing the young cadets to take to the skies and defeat the dangers that await. And lives from both sides of the Atlantic will be forever changed by love and loss….
Try this action-packed and romance-tinged novel inspired by the real, brave American women who trained in the British Royal Air Force during World War II.
It's been years since Grace, Felicity, Alice, and Hannah were together. The "Wild Girls," as they were once called, are no longer so wild. A birthday bash in Botswana should be a chance to have fun and rekindle their friendship, but soon after arriving at the luxury lodge things start to go very, very wrong.
Try this for a fresh approach to the classic locked-room mystery.
Hotel Portofino has only been open a few weeks, but already the problems are mounting for its proprietor Bella Ainsworth. She is short of staff and money. Her high-class guests are demanding and hard to please. And she is being targeted by a scheming and corrupt local politician. To make matters worse, her marriage is in trouble, and her children are still struggling to recover from the repercussions of the Great War.
Try this if you want to swim in the magical Italian Riviera during the Roaring Twenties.
Intrepid as ever, Mary Roach travels from leopard-terrorized hamlets in the Himalayas to St. Peter's Square in the early hours before the pope arrives. Combining little-known forensic science and conservation genetics with a motley cast of laser scarecrows, langur impersonators, and trespassing squirrels, she reveals as much about humanity as about nature's lawbreakers.
Non-fiction as a beach read? Why not?! Try this witty and thought-provoking book for a pick-up and put down and pick back up again porch readability.
Simone Larkspur is a perfectionist pastry expert with a dream job with a cookbook publisher in New York City. All she wants to do is create the perfect loaf of sourdough and develop recipes.
Ray Lyton accidentally became a viral YouTube sensation with a series of homebrewing videos. And they just became the new test kitchen manager with an outgoing personality and friendly disposition that seems to clash with Simone's 'leave me alone so I can work' attitude. But the more they work together, the more Simone realizes her heart may be softening like butter.
Try if a contemporary and banter-filled romance is your idea of heartwarming.
Hattie Kavanaugh went to work helping clean up restored homes for Kavanaugh & Son Restorations at eighteen; married the boss's son at twenty; and was only twenty-five when her husband, Hank, was killed in a motorcycle accident. Then, Hattie gets a once-in-a-lifetime opportunity: star in a beach house renovation reality show called The Homewreckers, cast against a male lead who may be a love interest, or may be the ultimate antagonist. Soon there's more at stake than bad pipes and dry rot: During the demolition, evidence comes to light that points to the mysterious disappearance of a young wife and mother years before.
Beaches, crime solving, and home design = why not try it?!