by Adult Services Library Associate Christian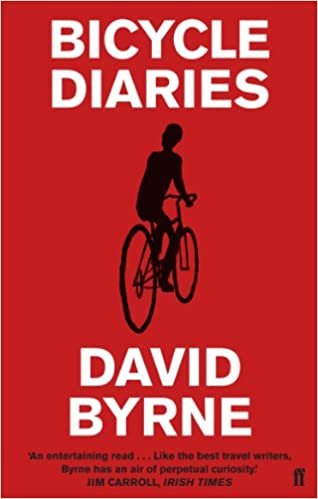 "Find a city. Find myself a city to live in."
Is what David Byrne yelps in the song "Cities" off of Talking Heads's classic 1979 record, Fear Of Music. And similarly to the tune of his band's hit song, he lives through the cities of the world in his 2009 book Bicycle Diaries. Inspired by the works of W.G. Sebald and tour life, Bicycle Diaries, is a reflection of viewing different parts of the world through the most quick and reflective mode of transportation, a bicycle. The diaries contain Byrne's views on urban infrastructure, bicycling, Robert Moses, the history and culture of the respective cities, and so much more.
Byrne's exploration and diary of the different parts of the world he witnesses comes from a place of expertise, coming from a background of touring with an internationally successful band–as well as a band that has incorporated world sounds. The world is condensed into a personal scope as Byrne talks about the decay of American industry in cities like Detroit and Baltimore or the fall of the Berlin wall, as he writes in an unfiltered way. There is no lineage of consistency, but that should be expected as the book follows its titular mark of being a diary–and the earnestness which comes from that is what keeps me hooked.
You can reserve Bicycle Diaries digitally and physically.
Similar Reads:
The Rings of Saturn by W.G. Sebald
Riding Toward Everywhere by William T. Vollmann
Figures in a Landscape by Paul Theroux