by Adult Services Library Associate Beth
As part of our ongoing commitment to promoting and facilitating community dialogue and engagement, Bexley Public Library is joining with other central Ohio libraries in a Let's Talk About Race: One Book – One Community program, which has at its center the book STAMPED: Racism, Antiracism, and You. The program kicked off on November 9 and will conclude with a virtual author talk by Jason Reynolds on January 24, 2021. To complement this ongoing program, the BPL Virtual Book Club is reading Kiley Reid's debut novel Such a Fun Age; a sharp, witty and provocative exploration of race, class and privilege. Be sure to register for the event and join us for a lively and timely discussion on January 13, 2021!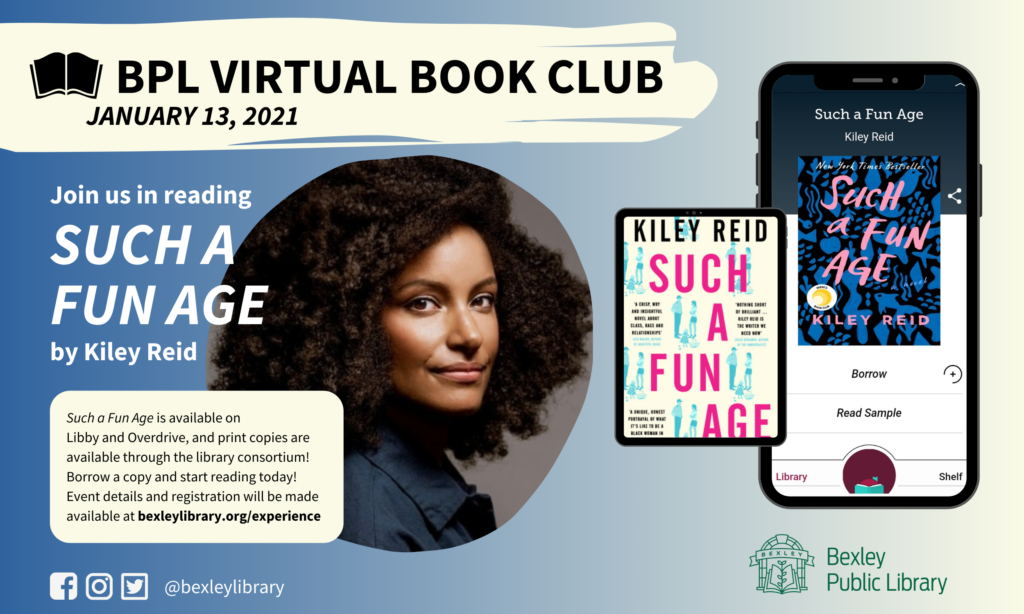 I first heard of Such a Fun Age while working one January evening at BPL. The book was featured on a list of 2020's most anticipated debut novels (it made the list despite technically being published in 2019, albeit on the very last day of that year.) After learning a bit more about the novel, I knew I had to read it, and as soon as possible. Luckily enough, CML's Driving Park branch had a copy available, and so I rushed there immediately after work to grab it – along with a few other titles because, like most of you, I'm incapable of leaving a library with just one book. I started the book the very next morning and once again found myself lucky. I had that whole day off with no other obligations to take me away from reading, and so I read it cover-to-cover in one day. I just couldn't put it down. Reid offers a thoroughly engaging depiction of the complexities of relationships that cross class and racial lines. The characters are fully-formed, authentic and complex. The lessons imparted are important. And after nearly a year, it's still a book I think about from time to time.
It's no surprise then that the book was Longlisted for the Man Booker Prize – though I am surprised it didn't at least make the Shortlist, if not win the prize outright. The book also won Best Debut Novel in the Goodreads Choice Awards. Though I personally voted for Reid's book to win the latter, 2020 was a great year for debut novels; making it a difficult choice. And so, if you find yourself having finished Such a Fun Age, and are looking for that next great read, I've also included here a list of my other favorite 2020 debut novels. (You can also find a more in-depth reviews for Russell's My Dark Vanessa in an older post on this blog, as well as a Book Chat video for Anappara's Djinn Patrol on the Purple Line on our YouTube channel.)
Happy reading, happy holidays, and see you all in the New Year!