by Public Service Associate Owen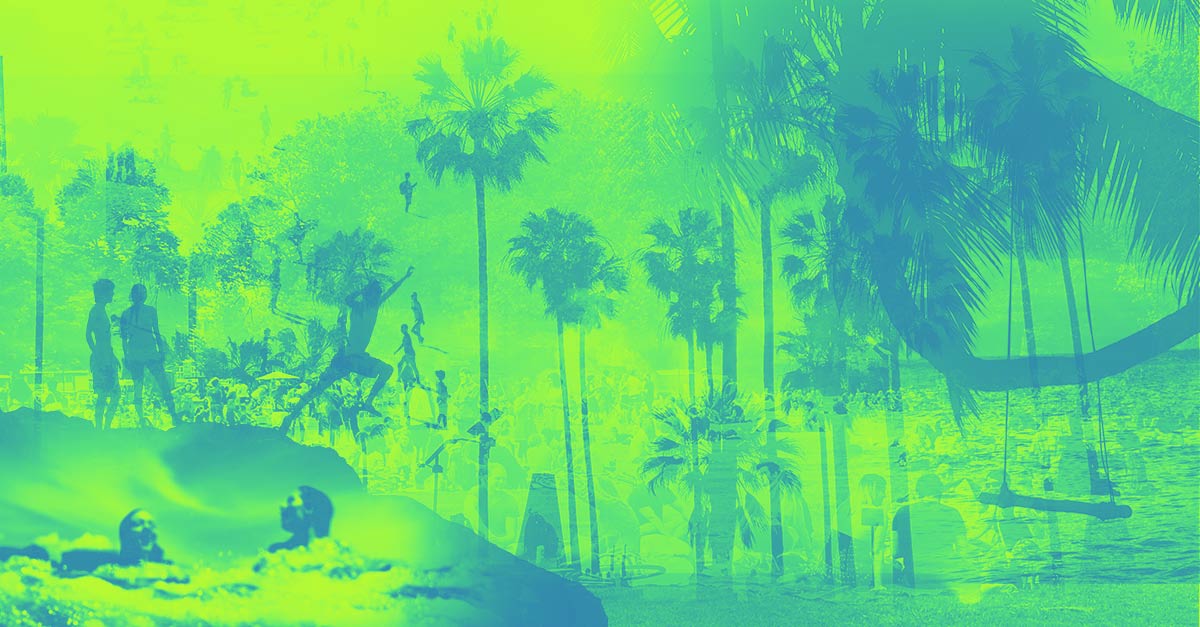 Summer is moving right along as we go deeper into July and look towards August. In a past blog, we've covered some delightful beach reads for you to enjoy if you're spending a weekend by the lake or by the ocean – but what if you want to jam out to some summery music while doing so? Do you have a road trip coming up and need something to listen to? Are you simply looking for some new music? Luckily for you, this blog will delve into some of my favorite music to listen to during the summer, across all sorts of genres. Whether you're working on your tan, having a cookout with friends and family, or are simply enjoying the warmer weather, these albums, pieces, and songs will help you embrace the warmth of the season!
Albums:
Funky, breezy, angsty, classic. These four albums are all personal favorites of mine, and each will bring something a little different to your summertime listening. If you prefer funkier, synthier songs that still feel lively and pop-esque, then Tame Impala's Currents is a great listen. Fleet Foxes' Shore is far more warm and folky, and will make you feel like you're lounging in a big sun hat at the beach no matter where you're listening from. For an album that will make you feel nostalgia for summers growing up, then Arcade Fire's The Suburbs is a great pick. It will make you want to hop on a bike, pedal hard, and try and capture some of that lost childhood magic. Finally, Prince is Prince, and Purple Rain might be the greatest summertime album there is. Need I say more?
Classical and Musical Pieces:
If classical music is more your speed, then you're in luck. Other than perhaps spring, there is no season more explored in the classical space than summer. Vivaldi's Four Seasons is a vivacious exploration of our four seasons, and his piece on summer makes the listener feel the more fervent weather that is associated with the season – a breeze that gives way to heat, haze, hail, and storms. It is sure to sweep you up! On the other hand, George Gershwin's "Summertime," originally composed for the 1935 musical Porgy and Bess, is bluesy, jazzy, and without a doubt one of the finest musical numbers ever composed. While the lyrics are tinged with sadness, it is still a song that will swell when combined with a hazy summer afternoon. Finally, Debussy's "Prélude" and Mendelssohn's "Overture" are beautiful and breezy, perfect for when you are able to escape the heat, find some shade, and fully appreciate the beauty of nature in the summertime.
Songs:
"Sitting on the Dock of the Bay" by Otis Redding
"Summer Breeze" by Seals and Crofts
"Lovely Day" by Bill Withers
"Take It Easy" by The Eagles
"Here Comes the Sun" by The Beatles
"Good Vibrations" by The Beach Boys
"Kokomo" by The Beach Boys
"Escape (The Piña Colada Song)" by Rupert Holmes
"Lovers" by Brothertiger
"Mainsail" by Brothertiger
"Everybody Wants to Rule the World" by Tears for Fears
"Seasons (Waiting On You)" by Future Islands
"Watermelon Sugar" by Harry Styles
"Hot Girl Summer" by Megan Thee Stallion, Nicki Minaj, Ty Dolla $ign
Finally, here is a smattering of songs that will find a fit in any summer mood. From low-key classics like "Summer Breeze" and "Lovely Day" to contemporary hits like "Watermelon Sugar" and "Hot Girl Summer," you're sure to find a song on this list that helps to pass the lazy, hazy summer days by. And remember to stop by BPL and check out our extensive music collection – you'll never know what great music you'll discover!