by Public Service Associate Owen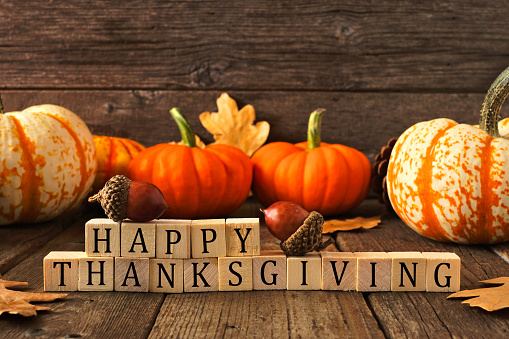 Thanksgiving! It means many things to many different people, but to me it is the best holiday. It's a day of celebration, reflection, and quality time with family, friends, and the living room couch. It's a time for parades, board games, football, toasts, and massive caloric intake. But it can also be quite stressful, especially if you're in charge of the feast and festivities, so I will be briefly sharing some books and other items that will help ensure the big day goes as smoothly as possible. So, without further ado, here are some resources to help you along as you plan and prepare for a wonderful Thanksgiving. Cheers!
Here are four fantastic books that help with cooking a fantastic Thanksgiving feast. If you could only pick one to go with, I would say that Sam Sifton's Thanksgiving: How to Cook it Well is probably your best bet. A self-proclaimed "Thanksgiving expert," Sifton is able to back his claim up with his complete guide on how to execute the perfect Thanksgiving meal. It contains tried-and-true recipes for all the Thanksgiving classics, from the turkey to the gravy to the cranberry sauce. It's written in such a way that both cooking novices and grizzled Thanksgiving veterans can take something away from it to enhance their festivities.
But the other books are still worth checking out if you need to bring some oomph to your celebration! Gobble, written by a mother-sons trio following the sudden death of their husband/father in honor of his Thanksgiving traditions, is sure to bring a labor of love to your Thanksgiving preparations. It is a roadmap for Thanksgiving hosts, with suggestions for table settings, wine and cocktail pairings, and starting new traditions. It is another handy resource for Thanksgiving party planners. Thanksgiving 101 is a purely cooking-focused resource, but it covers a lot more than just the turkey; you'll find recipes for regional dishes inside, so if you're looking to mix it up for your Thanksgiving menu this year then look no further! Finally, Vegan Holiday Classics is great for whipping something up for the vegetarians and vegans at your table. So if you're looking for some recipes, guides, or just general cooking inspiration, any of these four books are fantastic to have handy on turkey day.
Thanksgiving: The Holiday at the Heart of the American Experience by Melanie Kirkpatrick | print
1621: A New Look at Thanksgiving by Catherine O'Neill Grace and Margaret M. Bruchac with the Plimoth Plantation | print
Nickommoh! A Thanksgiving Celebration by Jackie French Koller | print
If you're looking instead to reflect on the meaning of Thanksgiving, then these materials are more of what you're looking for. In our contemporary context, Thanksgiving has a certain meaning; we celebrate the day accordingly, but sometimes it can be worth it to look back and see how and why this holiday came to be. Melanie Kirkpatrick's Thanksgiving: The Holiday at the Heart of the American Experience delves into this with great detail, tracing the holiday from its origins in 1621 New England all the way to the present day. It may surprise you to learn that Presidents, not Pilgrims, are the most responsible for why we celebrate Thanksgiving when we do, and why we continue to do so. Kirkpatrick's book is fantastic for anyone that is curious about the misty past of this venerated holiday.
Similarly, 1621: A New Look at Thanksgiving is a great read for anyone that is interested in the very first Thanksgiving. A photo-essay, it dives into the three day harvest celebration feast the Pilgrims held in 1621, seeking to dispel the myths and misconceptions that surround the origins of the holiday. Finally, Nickommoh! delves into the Narragansett harvest celebration of the same name, displaying what Thanksgiving was like before the Pilgrims. Any of these are sure to provide insight into what Thanksgiving was in the past, and how it has evolved and changed into the holiday we know and love today.
The Humans written and directed by Stephen Karam | DVD
A Charlie Brown Thanksgiving written by Charles M. Schulz, directed by Bill Melendez | DVD
Finally, here are two movies to consider when you're lounging post-feast on the big day. The Humans is a newer film with the following summary: "Erik Blake has gathered three generations of his Pennsylvania family to celebrate Thanksgiving at his daughter's apartment in lower Manhattan. As darkness falls outside and eerie things start to go bump in the night, the group's deepest fears are laid bare." It is a dramatic, psychological watch, so it is not recommended if you have small children running about, but it is a Thanksgiving-themed film if you are looking for something topical but with a very different mood. And of course, no Thanksgiving recommendations blog would be complete without recommending A Charlie Brown Thanksgiving. It's as classic as classic can get! There's something about Snoopy and Woodstock serving popcorn and buttered toast that just feels right.
Thanks for reading, and thanks for being with us here at Bexley Public Library! I hope you and yours have a wonderful, stress-free holiday.