by Public Service Associate Juliana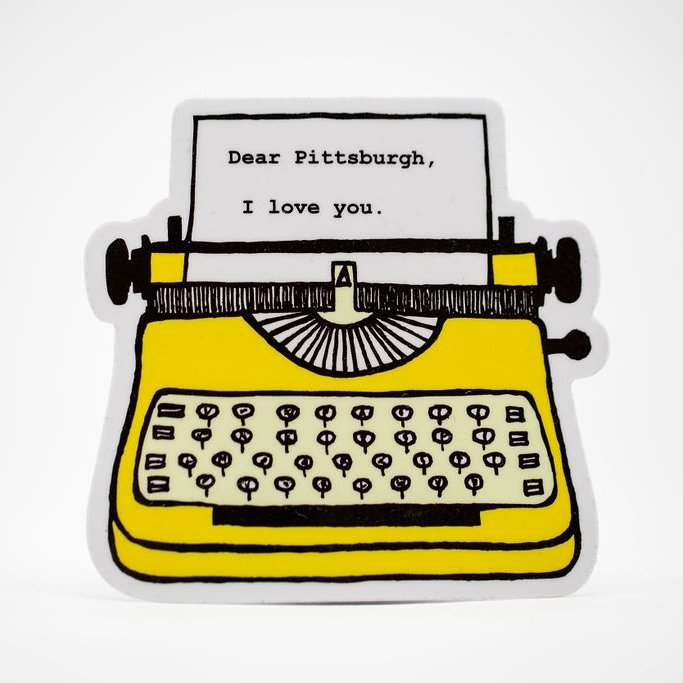 I lived in Pittsburgh for a brief stint while in school, the only time and the only place I've ever lived anywhere other than Ohio. During those years, the concept of Home was almost always on my mind, as I tried to feel at home in a new place while simultaneously feeling very, very homesick. Home has always meant Ohio and my family. To me home is the house by the creek, wild blackberry bushes and Queen Anne's lace along the back drive, Mamaw and Poppy's house next door, Mom's no-bake cookies cooling on the counter, Dad's boots by the door, meals with my siblings, my childhood bedroom.
Now my definition has expanded to include Pittsburgh, the neighborhood of Lawrenceville, the third-floor walk-up on Hatfield Street with window sills wide enough to sit and read in. All it took was a little Pittsburgh kindness, learning street names and local spots, hanging my clothes in the closet, putting my books on the shelf. With those things and my husband's company, I was quickly calling Pittsburgh home.
That home was a kind of literary heaven. My days were filled with reading and writing interspersed with dog walks in my neighborhood. In the evenings I went to class where, you guessed it, we talked about reading and writing. A few days a week this routine was broken up with my shift at a local literary magazine where I helped proofread and fact check, among other things. When I got home, I'd scroll Littsburgh for poetry readings, author talks, and weekend creative writing workshops to attend. I also wrote for an online publication, staffed the school literary magazine, mentored with the Editor in Chief of a local small press, traveled far (Iceland) and near (Asheville) for writing seminars, attended conferences, volunteered at conferences. This sounds like a CV but what I'm trying to describe is pure bliss. 
I've been happily back in Ohio for four years now finding a new home and literary heaven here at Bexley Public Library. But occasionally a feeling creeps in, and I realize I'm homesick for Pittsburgh. For the rivers, bridges, and French fries on sandwiches. For Barb's Corner Kitchen, Allegheny Coffee, and Mineo's Pizza. The drive, just under three hours, is an easy trip. But when that isn't possible, I've found other ways to indulge this nostalgia. Pittsburgh is one of my favorite places to travel in real life, but it makes for equally good armchair travel.
Perhaps best-known for its sports, it also happens to be a very literary city. Think David McCullough, Annie Dillard, and Michael Chabon. You can get lost in any of their works. Most recently I've been absorbed in contemporary titles with Pittsburgh ties. See below.
Books
Carnegie's Maid by Marie Benedict | print / Libby

If you enjoy historical fiction, this might be for you. Benedict brings 1800s Pittsburgh to life, in all its sooty, industrial glory. If you're more interested in Carnegie and his connection to public libraries, you might be better off with a biography.

Emily, Alone by Stewart O'Nan | print / Libby

O'Nan is one of Pittsburgh's most prolific writers. In Emily, Alone, you'll feel like you're fighting Emily's dog Rufus for the front seat to tag along while Emily runs errands. Set aside some time after you finish this one. You might be inspired to rearrange your tissue boxes, write that overdue thank you note, or get a head start on your holiday cards. At the very least, you'll definitely want to call your grandma.
Me and Earl and the Dying Girl by Jesse Andrews | print / Libby

Andrews was born and raised in Pittsburgh and uses his neighborhood as the setting. This book is not without its faults. The real glue that holds it together, actually the only reason I was able to finish reading it, is the film aspect. The parody movies Greg and Earl make together are compelling enough to get at least this reader all the way to the end. 
Movies
The Perks of Being a Wallflower dir. by Stephen Chbosky | dvd

Chbosky not only wrote the critically acclaimed novel and the screen play, he also directed the film! I've always been a fan of the book but suggest the film version just for the diner vibes and, of course, the tunnel scene.
Me and Earl and the Dying Girl dir. by Alfonso Gomez-Rejon| dvd

Jesse Andrews wrote the book, also the screenplay (fun fact: he co wrote the story for Disney's Luca). This is of those rare cases when I actually like the film better than the book, especially for the purpose of armchair travel. The film, shot on location, offers a much stronger sense of place and even uses Andrews' childhood home as Greg's house. Pittsburgh is a city with many neighborhoods, all distinctly different with their own unique flavors and characteristics. This movie makes me fall in love with Point Breeze.

A Beautiful Day In the Neighborhood dir. by Marielle Heller | dvd

This post wouldn't be complete without mentioning Mister Rogers. Part of me wonders if maybe his early influence on me had something to do with my choice to live in Pittsburgh.