by Local History Librarian David
One of Bexley's oldest businesses, Rubino's, was established in 1954 by Ruben Cohen, who adapted his Jewish name to sound more Italian as the name of his pizzeria and spaghetti restaurant. There were only ten places in Columbus for pizza at the time, and Cohen made Rubino's special for its thin crispy crust and "fairly secret" sauce recipe.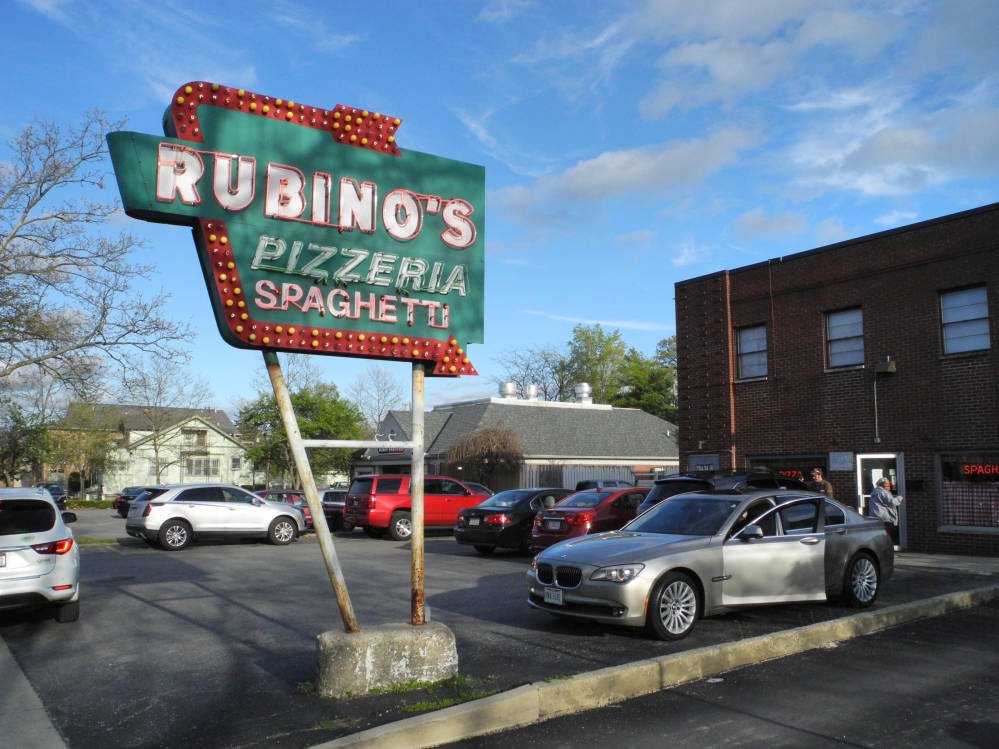 When the red brick building was sold in 1983, over five hundred Bexley citizens signed a petition while others picketed outside of city hall to save Rubino's. The city denied the new owner's request for a zoning variance that would convert the restaurant into a meat market, and Rubino's renegotiated its lease.
In 1988, Cohen sold the restaurant to employees Frank Marchese and Tommy Culley. Operated today by Marchese's children, little of the atmosphere, neon signs, and dining room have changed: only the competition along Main Street.
Bexley Pizza Plus was established in 1980 by Don Schmitt. It was originally located in the 2500 block of E Main Street, and relocated next door to Rubino's in 2006. Brad Rocco, a graduate of Bexley High School, started as a delivery driver at Bexley Pizza Plus, and went on to become the co-owner in 1994. They gained national and international attention in pizza competitions, like competing two years with the U.S Pizza Team, and winning the International Pizza Challenge in 2014.
Read more about the history of pizza in Columbus, Ohio in Jim Ellison's new book, Columbus Pizza: A Slice of History, available now at BPL and Gramercy Books in Bexley.
To hear more about Bexley Pizza Plus listen to BPL's podcast, 40+ Years of Bexley Pizza Plus with Brad Rocco.
Join us on Tuesday, March 23 at 7 PM to hear author Jim Ellison discuss his book by registering for Bexley Public Library's virtual program, A Slice of Columbus Pizza History.