by Public Service Associate Juliana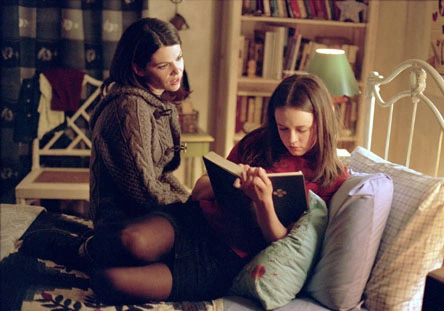 As someone who works at a library it's no surprise that my favorite conversations are about books and that my favorite question to ask is "What are you reading?" I particularly love to ask my mom and my sister because they are almost always reading something I need to know about or something I've read and should revisit. This happens on a regular basis thanks in large part to the Gilmore list.
Often referred to as The Rory Gilmore Reading Challenge, the list includes 339 titles, each of which is mentioned or featured in the show, arranged alphabetically by title. The challenge is to read every book listed. My sister discovered and printed the list six years ago. Her copy is soft edged with the titles they've read marked off in pink highlighter. They choose randomly, mostly based on what's available at the library, and have read around 80 so far not including titles they read previous to printing the list. For example, they've both read Jane Eyre, Catch-22, and other high school English curriculum books but will have to reread them to actually get to cross them off the list. My sister is adamant about reading all 339 and reading each to completion. "I never don't finish a book," she said. "Well, except one. The Journals of Sylvia Plath. It was back when the library still had fines, and I had to return it." But she remembers where she left off and will eventually get back to it.
During a recent bookish conversation with the two of them, I learned something that surprised me. Their reading list actually has more to do with The Office than it does Gilmore Girls. Frequent watchers of The Office, my sister's interest sparked when Pam, Oscar, and Toby read Memoirs of a Geisha for their Finer Things Club. According to Dunderpedia: The Office Wiki, The Finer Things Club meets "to discuss books and art and celebrate culture 'in a very civilized way.'" It was shortly after watching that episode that my sister came across the Gilmore Reading Challenge online and felt motivated and inspired to print it out and invite my mom to embark on the journey of reading every item on the list for their own little Finer Things Club of sorts.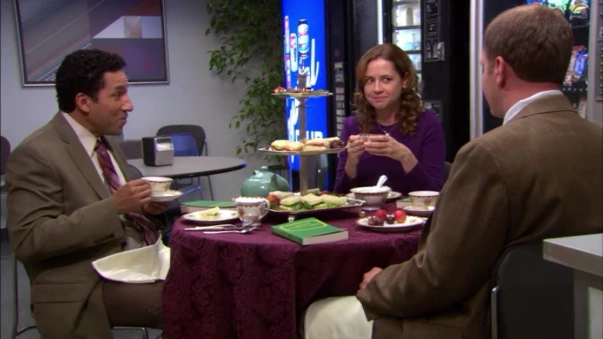 Six years later, they are still going strong. When I asked what contributes to their longevity they said, first off, the variety, but more importantly it's the ongoing conversation they get to have. They don't have a monthly meeting but rather each read a book and then swap and talk as they go. They didn't want to take themselves too seriously or treat it too much like school, they wanted these points of connection, casual conversations, shared insights and observations.
They tend to agree on their most loved and least favorite titles so far, straying only in a few places. My mom loved The Little Locksmith so much she purchased it, while my sister hardly remembered what it was about. Neither of them could remember anything about How the Light Gets In even though it's crossed off the list, indicating they both read it. They loved The Jungle, laughed the whole way through Me Talk Pretty One Day, barely slogged through Swann's Way, and were pleasantly surprised by The Crimson Petal and the White.
They are absolutely right when they note the variety of the list, ranging greatly in author and genre — from Jane Austen to Jonathan Safran Foer and Sylvia Plath to Anthony Bourdain. There are novels, plays, poetry, short stories, autobiographies, punk histories, and graphic novels. You can find other book challenges like "Back to Classics" and "100 Best Books of All Time" for example, or read the backlog from Oprah's Book Club, and you may find any number of these titles repeated here, but this list goes beyond the zeitgeist.
My mom and sister commented that these are often not the books you'd gravitate towards while browsing, they're not shiny, new book candy. These aren't necessarily the books getting picked up for displays or face outs. They are covers you'd maybe misjudge or pass up. I'm guilty of it myself, most recently with Peyton Place. They read it this fall and both told me it surprised them, that it's known for the soap opera but the book is quite good. When I pulled it off the shelf the nondescript cover was completely underwhelming, and I must admit I thought about reshelving it but took it home on their recommendation.
I trust and value their opinions. For example, they inspired me to read the longest book I have ever read that wasn't Harry Potter (which is also on the Gilmore list, by the way). Upon their recommendation, I actually finished An American Tragedy. Published in 1925, clocking in at over 800 pages, this book does not disappoint and is still unnervingly relevant. I won't spoil the plot because I went in with their advice to not read the synopsis– a very foreign concept to someone who uses Goodreads as much as I do. The premise reveals elements of the narrative that have a much greater impact if you go in blind. The book hits harder without any expectations. All my mom and sister would say is that it feels true to human nature, that it's American realism at its finest, that the characters and their moral dilemmas feel believable, and that it's long but worth the time.
Four years after reading it I still think about this book, and then a week ago it made an unexpected return in my life. I was reading a Hollywood novel called Zeroville, and the protagonist in the book has Montgomery Clift and Elizabeth Taylor tattooed on his head. The image is a close-up embrace from the film A Place in the Sun. I'm not familiar with the film, but around page 90 the author analyzes a few scenes from it, and I recognized them immediately from An American Tragedy.
That's the wonder of reading! The connective tissues and extra depth added to everything.  I proceeded through the rest of the book with this knowledge, that the main character's favorite movie of all time is based on a noteworthy book written almost a hundred years ago. Zeroville never mentions that a book inspired the film, neither the book title nor the author is named. I found it very rewarding to read the simple description of a couple in a rowboat and immediately connect it to a book I read four years ago. It made me feel like I understood the protagonist on a deeper level, to know something about the characters tattooed on his head, the moral dilemmas, the overall vibe. 
While the books on the list aren't all crowd pleasers, the Gilmore list is packed with rewarding reading. Culture, geography, history, themes, the human condition. Every book, even the ones we don't like, teaches us something. My mom and sister have found some point of discussion, some worthwhile thing in each title they cross off, whether they enjoyed it or not. My sister pointed out, "Some of the books we pick up and think we're going to hate, that we'll just have to power through, and then we end up loving." The surprise is part of the fun.
See below for a few of their favorites and what they are reading so far in 2023.
Favorites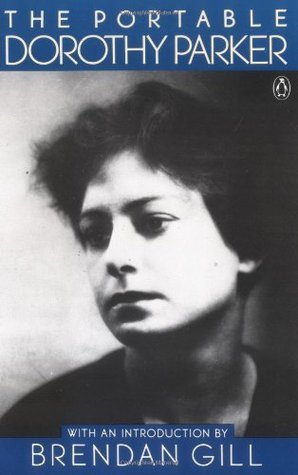 Current Reads